A young boy was given the chore of carrying a pail of water from a well to his house every afternoon. It was truly a frustrating task for him as the pail he had to use had holes on it. By the time he reached the door of his home, half the water in his pail would have been wasted on the pathway. No matter how he persuaded his father, he could not change his father's mind about this tedious task. As the days unfolded, the young boy found an interesting development. Plants had sprouted on the pathway that he treaded daily carrying the pail of water. When he told his father of the happy surprise, he discovered that his father had planted seeds on the pathway and that he was in fact watering the seeds without knowing it.
The Word of God is indeed like the water that grows the seeds that God has planted within us. It is given to us to teach, rebuke, correct and train us in righteousness.
All Scripture is God-breathed and is useful for teaching, rebuking, correcting and training in righteousness, so that the servant of God may be thoroughly equipped for every good work.

2 Timothy 3:16-17 (NIV)
What this means is that the Word is given to help us build a godly life. The Word teaches us about God and the Christian life. Without the Word, it is not possible to grow as a Christian.
The Bible rebukes and corrects us.
When we check our behaviours against the Bible, we will know when we are wrong, and how to correct ourselves.
I remember how I learned to speak wisely. It wasn't taught to me by anybody. I was rebuked and corrected by the Word. It happened during my devotion when I was a relatively young believer. I was reading the Book of James, and as I came to James 3:1-12, I just couldn't move on from these verses on taming the tongue. I began to reflect on them, repented and decided to watch my words from that day on.
While I didn't understand everything about the Book of James, I certainly did understand enough for it to change my life! Do not be discouraged if you cannot understand Scriptures very well. I believe that God designed his Word in such a way that we can spend our whole life discovering more of it! Even Bible scholars continue to try to understand more of Scriptures!
In fact, we should not be in a great hurry to know everything in the Bible. Just like it takes time to know a person deeply, it takes time to discover the depths of Scriptures. Layer by layer, the Bible opens up to us as we take time to read and meditate. Cramping in too much knowledge in a great hurry — we sometimes do this because we mistakenly find our sense of superiority as a Christian in our knowledge of the Bible — can lead to a puff up head and indigestion!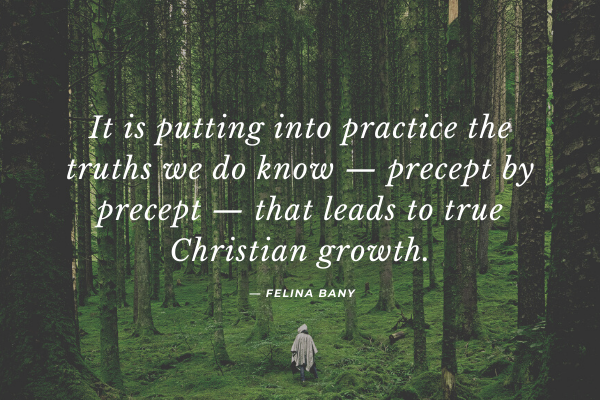 If you keep reading the Bible, God will always give you sufficient gems in the Word to grow you and direct your path. You do not have to worry about missing out on God's promises and directions.
When I began sensing God leading me into the ministry, there was a great struggle within me. Even when my spiritual leaders 'confirmed' my calling, I continued to struggle. One night, as I was praying, I heard the Holy Spirit said, "For even the Son of Man did not come to be served, but to serve, and to give His life a ransom for many." (Mark 10:45, NKJV) Immediately, I fell on my knees and cried. The Word of God broke my resistance and directed my path.
I certainly didn't know much Scriptures at that time but God used what I did know to direct me. Loving the Word and applying it — precept by precept — continuously is the best way to grow as a believer.
If you would like to grow in your love for the Word, I recommend reading Psalm 119. Psalm 119 is the longest chapter in the Bible and contains 179 verses extolling the greatness of Scriptures. It is a beautiful acrostic poem comprising 22 units of 8 verses. Each unit begins with a letter in the Hebrew alphabets. In this wonderful Psalm, eight words are used to describe Scriptures — law, word (dabar), judgments, testimonies, commandments, statutes, precepts and word (imrah). That so many verses and words are used to describe Scriptures should alert us to its extraordinary breath!
Reading one verse of Psalm 119 every day would enable you to read through the entire Psalm twice a year. And when you have read one verse of Psalm 119, go ahead and read another passage of Scriptures. Precept by precept, the Word of God waters the seeds into full bloom, bearing the fruits God desires in your life!